"In the Well" is a poignant reflection on the fluidity of childhood memory and the blurred line between reality and imagination. The work delves into the concept of confabulation, the subconscious creation of false memories to fill in gaps in our recollection. Like the ebb and flow of the tides, the boundaries between what I had imagined and what I had truly experienced are ever-shifting, a mercurial dance of memory and perception. Through this introspective study, I aim to explore the intricate web of emotions, sensations, and associations that shape our most cherished childhood memories.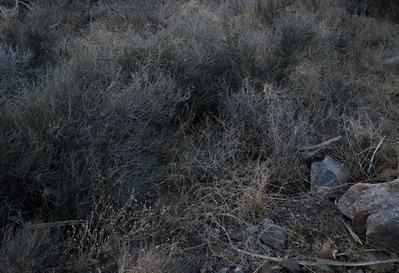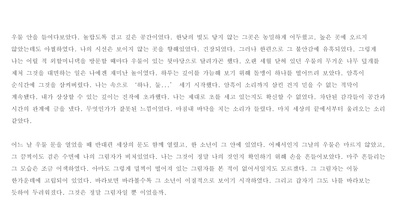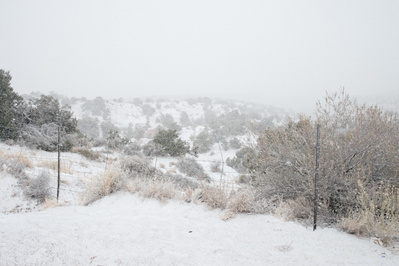 우물 안을 들여다보았다. 놀랍도록 검고 깊은 공간이었다. 한낮의 빛도 닿지 않는 그곳은 농밀하게 어두웠고, 높은 곳에 오르지 않았는데도 아찔하였다. 나의 시선은 보이지 않는 곳을 향해있었다. 긴장되었다. 그러나 한편으로 그 불안감에 유혹되었다. 그렇게 나는 어릴 적 외할머니댁을 방문할 때마다 우물이 있는 뒷마당으로 달려가곤 했다. 오랜 세월 닫혀 있던 우물의 무거운 나무 덮개를 제쳐 그것을 대면하는 일은 나에겐 재미난 놀이였다. 하루는 깊이를 가늠해 보기 위해 돌멩이 하나를 떨어뜨려 보았다. 암흑이 순식간에 그것을 삼켜버렸다. 나는 속으로 '하나, 둘...' 세기 시작했다. 암흑이 소리까지 삼킨 건지 믿을 수 없는 적막이 계속됐다. 내가 상상할 수 있는 깊이는 진작에 초과했다. 나는 제대로 초를 세고 있는지도 확신할 수 없었다. 차단된 감각들이 공간과 시간의 관계에 금을 냈다. 무엇인가가 잘못된 느낌이었다. 마침내 바닥을 치는 소리가 들렸다. 마치 세상의 끝에서부터 울려오는 소리 같았다.

어느 날 우물 문을 열었을 때 반대편 세상의 문도 함께 열렸고, 한 소년이 그 안에 있었다. 어째서인지 그날의 우물은 마르지 않았고, 그 끔찍이도 검은 수면에 나의 그림자가 비쳐있었다. 나는 그것이 정말 나의 것인지 확인하기 위해 손을 흔들어보았다. 마주 흔들리는 그 모습은 조금 어색하였다. 아마도 그렇게 멀찍이 떨어져 있는 그림자를 본 적이 없어서일지도 모르겠다. 그 그림자는 어둠 한가운데에 고립되어 있었다. 바라보면 바라볼수록 그 소년이 이질적으로 보이기 시작하였다. 그리고 갑자기 그도 나를 바라보는 듯하여 두려워졌다. 그것은 정말 그림자일 뿐 이었을까.
2015-2017
Once upon a time, there was a little child who lived in a village surrounded by green fields and woods. In the backyard of the child's grandmother's house, there was a well that had been abandoned for years, its heavy wooden lid always kept tightly shut. The child had always been curious about what was hidden beneath the dark water, so one day, they summoned up the courage to lift the lid.
Looking down into the depths of the well, the child saw only an endless black hole that seemed to swallow up all light and sound. The child tossed a small pebble in, and watched in awe as it disappeared into the darkness without a sound. Each passing second of silence was both eerie and intimidating, and the child felt a sense of depth that ran far beyond their imagination. Finally, they heard the pebble hit the bottom of the well, a sound so loud it seemed to echo from the end of the world.
But one day, something magical happened. The other end of the well opened, and the child saw a boy looking back up at them. But it was no ordinary boy; it was a perfect mirror image of themselves, only the sky above was brighter and bluer than any the child had ever seen. For some reason, the well was now filled with dark water, and the child's shadow overlapped their reflection on its surface. They waved a hand to the dark figure, and to their surprise, the shadow waved back, confirming that it was indeed them. But something felt off. The child could sense a fragility in their synchronized action, perhaps because of the distance and isolation between them.
As the child stared into the well, their shadow seemed to grow darker and more vivid by the minute. Suddenly, the child felt a chill run down their spine as they realized the shadow was staring back at them with an eerie gaze. In that moment, the child knew they had to shut the lid of the well and run away as fast as they could. From that day on, the child never opened the lid of the well again, but they would always wonder what kind of mysterious world lay hidden deep within its depths.